Attorney Admission Request for CM/ECF
Attorney Admission Request for CM/ECF
Only upgraded PACER accounts can successfully access the NextGen version of CM/ECF. If you have not upgraded your account, you will not be able to file in the Massachusetts District Court. If you do not yet have a PACER account, please follow these instructions to register for a PACER account. To verify that your PACER account is upgraded, please follow these instructions. If your PACER account has not yet been upgraded, you will need to upgrade it.
If you are already admitted to this Court and have an existing CM/ECF account in the District of Massachusetts, find out how to link to your PACER account.
Attorney Admission Process
The information below describes how to apply for admission to the United States District Court for the District of Massachusetts through PACER. To learn more about the application process and the requirements to be admitted, visit our Attorney Admissions page.
---
Attorney Admission
Any attorney who is a member in good standing of the Massachusetts State Bar is eligible for admission to practice in the District of Massachusetts. To request admission:
Log in to your PACER Account
Navigate to the PACER login page and log in with your upgraded individual PACER account.
Create a New Request for Attorney Admission
On the Manage My Account page, select the Maintenance tab and choose Attorney Admission / E-File Registration.

Select the Court
Select U.S. District Courts as the Court Type and Massachusetts District Court as the Court. Click Next.

Choose Attorney Admissions and E-File
From the list of available registration types, select Attorney Admissions and E-File.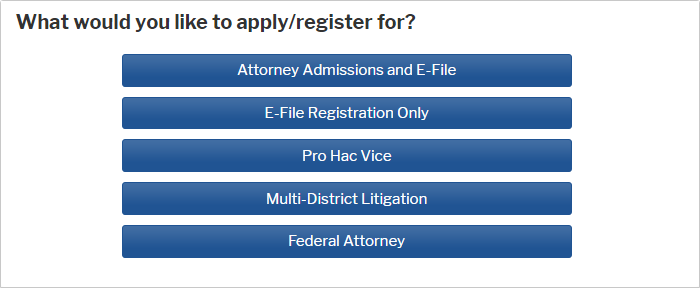 Begin your Attorney Admissions Request
Required fields are marked with a red asterisk (*)
---
State Bar Information
Note: State Bar information is required for USDC, District of Massachusetts.
Select the checkbox for "I am admitted to the bar in one or more states."
Click the "+ Add" button in the "Additional State Bar Information" section. Add your state bar information in the form that pops up.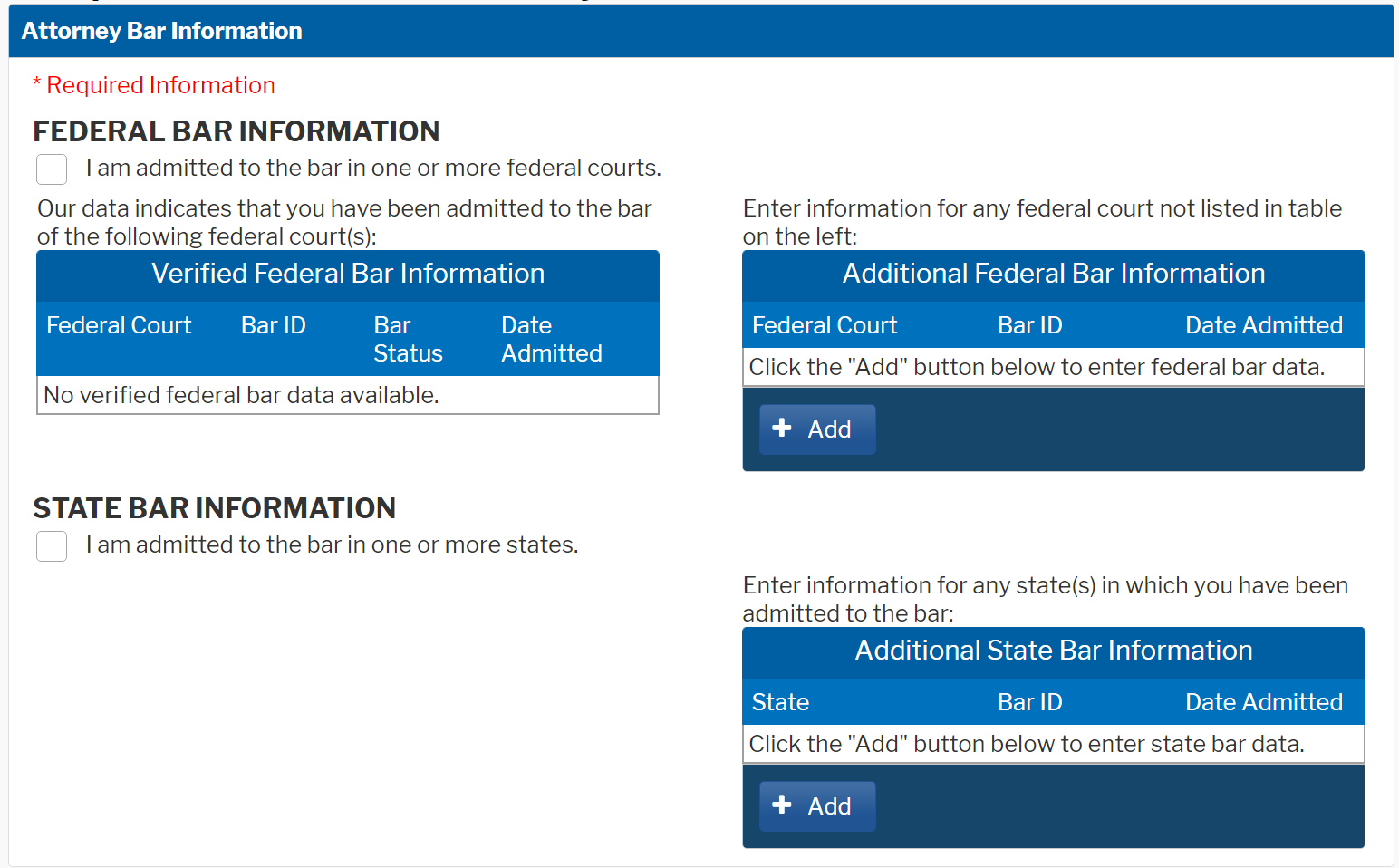 ---
Sponsoring Attorney
The U.S. District Court for the District of Massachusetts does not require a sponsoring attorney. You may skip this section.

---
Attorney Information
Enter your information and acknowledge the admission fee or request a waiver of fees.
Note: The United States District Court for the District of Massachusetts only waives the admission fee for federal employees or current law clerks.

---
Document Upload
Upload your Certificate of Good Standing as a PDF for court clerk to review. The certificate should not be older than 90 days. The file size should not be more than 10MB. You will get a confirmation message that your file was successfully loaded.
Note: Only one PDF file can be uploaded. If more than one PDF including Certificate of Good Standing is to be uploaded, combine all PDFs and upload.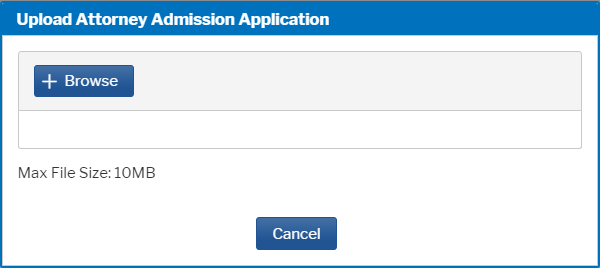 ---
Additional Attorney Information Required by Court
Answer all questions and click Next. If you need to attach a file, combine the PDF(s) with your Certificate of Good standing and upload it to the Document Upload field.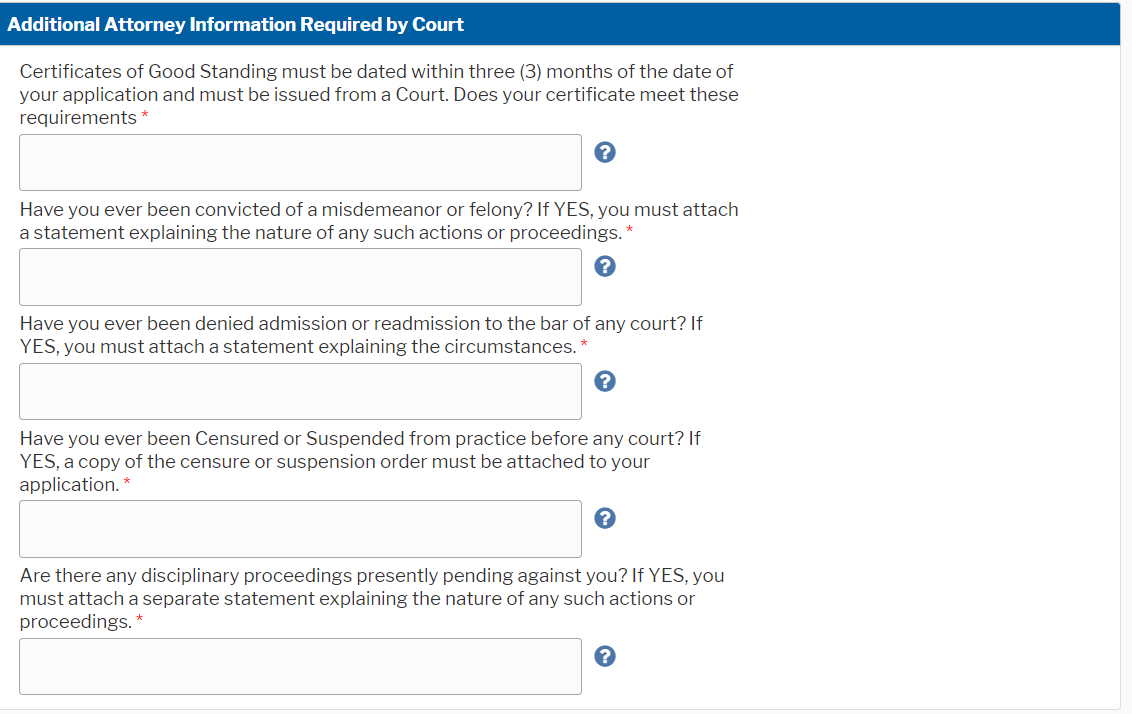 Complete E-File Registration
Complete the personal information on the E-File Registration screen and click Next.
Required fields are marked with a red asterisk (*)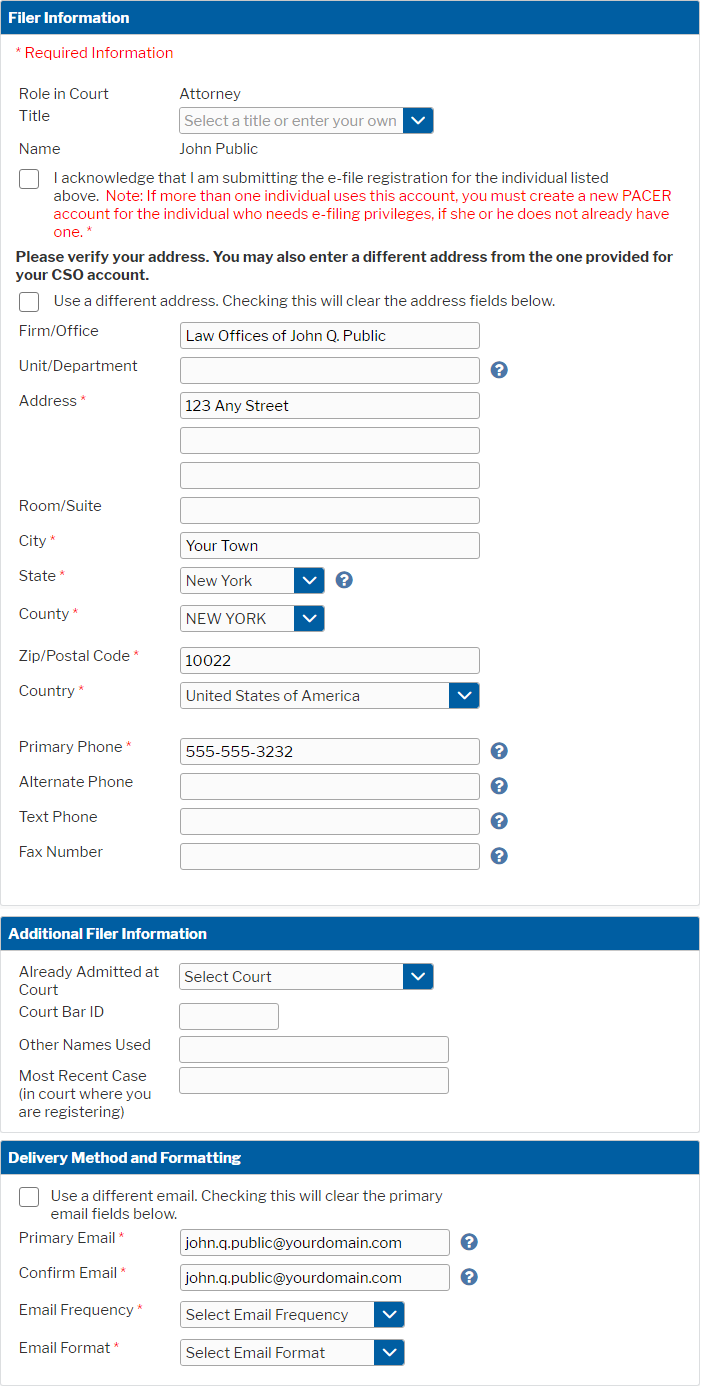 Manage Account Payment Information
Set default payment information if desired (not required). Click Next when finished, or to bypass this screen. You can add a credit card or ACH payment method for each of the following fee types: Autobill PACER fees, E-filing fees, and Admission fees. (Please note that this Court does not accept ACH payment for Attorney Admissions fees).
To use the same payment method for multiple fee types, once account information is entered, click on the checkbox next to the fee type to designate the entered payment method to that account. The checkbox will be checked once it has been designated an account.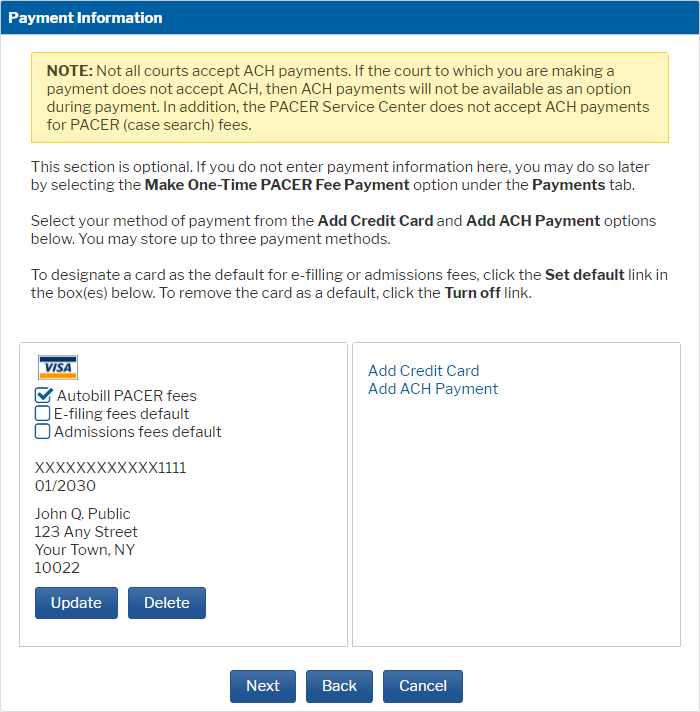 Agree to the E-Filing Terms of Use
Check the boxes to acknowledge that you have read and agree to the Attorney E-Filing Terms of Use.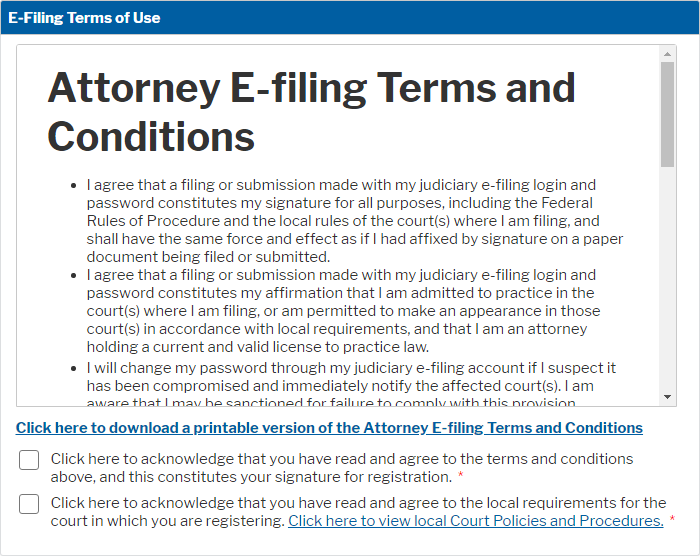 Submit the Form
Click Submit at the bottom of the form. You will see a confirmation page once the form is submitted. Click Done to continue.

---
Quick Links
Relevant Documents