Specialty Courts
The U.S. District Court of Massachusetts provides unique specialty courts. Read more about CARE, RISE, and RESTART below.
---
Court Assisted Recovery Effort (CARE)
Mission Statement
The CARE program helps participants to create and to maintain sober, employed and law abiding lives. Success in the program promotes both public safety and the rehabilitation of the participant. CARE involves closer supervision and higher expectations than regular supervision, but it also offers a participant greater assistance, opportunity and reward. The Court, the Probation Office, the United States Attorney's Office and the Federal Defender Office all participate in CARE in an effort to help each participant succeed.
---
Program Summary
CARE is a nationally-recognized reentry court program. The participants are serving terms of supervised release or probation, have significant histories of substance use disorder, and are at moderate or high risk to recidivate. If a participant graduates from the program, they receive a one-year reduction in their term of supervised release. (See the CARE Program Description for a detailed description of the program.)
The program seeks to prevent recidivism, promote public safety, and assist high-risk ex-offenders with the many social, family, and logistical issues they face after spending years in prison. CARE participants are particularly likely to relapse and/or recidivate because of their substance use disorder issues and high-risk status, therefore, the program's emphasis is on stabilizing, treating, coaching and building social supports for the participants so that they can be sober, law-abiding, and employed.
In order to help participants achieve these goals, the CARE program offers incentives, support from a judge, probation officers, attorneys, and treatment providers. The program also imposes sanctions for illicit substance use or for violating supervision conditions or the CARE program expectations. The CARE program is a completely voluntary program, and participants can withdraw at any time.
The CARE program is designed to be completed in approximately twelve months over four phases. Each week that a participant is enrolled in the program, they have the ability to earn credit, so long as they are in compliance with their conditions of supervision and the expectations of the program. Phases 1 through Phase 3 are designed to last twelve weeks each. Phase 4 is designed to last sixteen weeks. These time frames can be reduced if a participant earns extra credit for accomplishments (program incentives), or they can be extended due to not earning credit or losing credit for noncompliance (program sanctions). Participants meet with the CARE team twice a month in court at the beginning of the program, and once a month toward the end of the program. (See the CARE Participant Agreement for more details about the court session.)
The assignments and expectations of each phase of the program are concrete and clear. Each phase has a specified purpose with distinct, achievable goals that are consistent with the stages of recovery. The phases encourage participants to develop an understanding of substance use disorder and recognize their patterns of use, triggers, factors that influence use, and the impact of use on self, family and community. The main goal of the program is for participants to achieve extended sobriety. With this goal in mind, the program requires that each participant remain substance free for the final 32 weeks of their time in the program. These concrete guidelines were developed to support consistency with the best practice stages of change model of care. These monitored 32 weeks of sobriety ensure a solid foundation for an individual upon graduation from the program.
Participants are challenged to accept responsibility for the impact of their drug use and behavior on others, and are provided access to recovery resources, the tools necessary to facilitate and maintain their sobriety, as well as other forms of assistance where appropriate to support participants to become productive members of the community. Throughout participation in CARE, participants work toward the development and expansion of a community-based sober support network. Finally, participants are required to complete written presentations at the beginning and end of each phase, and prepare a comprehensive relapse prevention plan prior to graduation from the program.
The program is presided over by Magistrate Judge Page Kelley. The other members of the CARE team are Supervisory U.S. Probation Officer Christopher Moriarty, Senior U.S. Probation Officer Thomas Mullen, U.S. Probation Officer Amanda Powlowski, U.S. Probation Officer Assistant Janisa Bynum, Assistant United States Attorney Torey Cummings, Criminal Defense Attorney Jessica Hedges, and Treatment Consultant Katie O'Leary.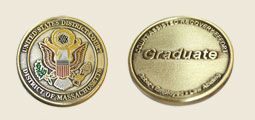 ---
Learn more
C.A.R.E. Downloadable Documents
Repair, Invest, Succeed, Emerge (RISE)
The RISE program was created by the United States District Court for the District of Massachusetts and its Probation Office. Defendants accepted into the program are given a year before their sentencing to address the issues that led to their committing crimes. Participants who make significant strides toward becoming sober, law-abiding, and employed citizens who can contribute to their communities will have their participation in the program taken into consideration at sentencing.
While in the program, participants are required to make fundamental changes in their behavior in order to dramatically reduce the possibility of recidivism. Participants are granted access to the program by their assigned district court judge soon after their plea hearing. Their sentencing dates are extended to permit participation in the program. RISE participants are closely supervised by Probation and must meet high expectations for their conduct while in the program. Each participant works toward achieving an individualized set of goals. Program requirements may include finding and maintaining employment, enhancing job skills, seeking out opportunities for education, acquiring stable housing, participating in mental health and drug treatment, acting responsibly toward family and community, and participating in cognitive behavioral therapy. All participants must take part in a restorative justice program. Defendants who successfully complete the RISE program are entitled to no specific benefit. The only guarantee is that the district judge will consider all aspects of the defendant's participation in the program at sentencing. The court sessions are presided over by Chief Magistrate Judge Page Kelley in Boston, and Magistrate Judge David Hennessy in Worcester.
---
Learn more
R.I.S.E. Downloadable Documents
---
Reentry: Empowering Successful Todays And Responsible Tomorrows (RESTART)
The principal goals of the RESTART program are to reduce recidivism and promote successful community reintegration while maintaining public safety.
RESTART is focused on men and women released into the community who are designated as being at high risk for recidivism. Participants attend a weekly support court session involving all court parties, including the RESTART Judge. Participants are encouraged to develop and achieve goals and to participate in relevant treatment and educational programs. All RESTART participants also participate in MRT - a manualized cognitive behavioral therapy group proven to reduce recidivism. RESTART is designed to provide additional structure and support to participants during their first year of supervision, the time when they are at greatest risk to fail. After successful completion of 52 weeks in RESTART, participants earn a year reduction in their term of supervised release. Anyone recently released, or pending release, who is interested in participating in the RESTART program should review the Participant Agreement and speak to their Probation Officer.
---
Learn more